Articles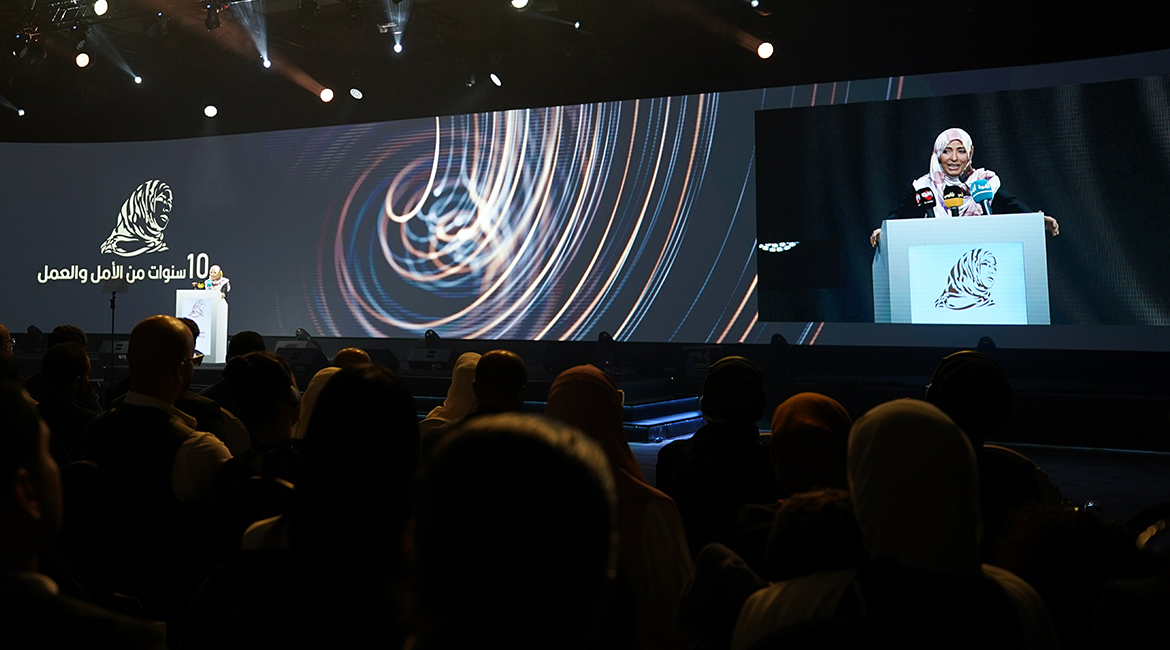 A special celebration on the occasion of the 10th anniversary of Tawakkol Karman winning the Nobel Peace Prize
It's been 10 years since pro-democracy activist Tawakkol Karman became the first Arab woman to receive the Nobel Peace Prize for her efforts in Yemen's 2011 Arab Spring uprisings.
On Thursday evening in Istanbul, a diverse audience from across the Arab world celebrated the Nobel laureate for the role she played in Yemen's peaceful youth-led revolution the accomplishments she has since made despite the outbreak of war.
With the same passion that drove scores of youth-led peaceful protestors into Yemen's streets in early 2011, Karman told the crowd that while some challenges remain the same and some of them have changed, much remains to be done.
"Freedom, dignity, justice, equality, democracy and a modern state. These are the goals of Yemenis in their patriotic struggles in the last century," she told the audience.
In 2011, Karman was instrumental in bringing global attention to Yemen's revolution, which led to the resignation of 33-year President Ali Abdullah Saleh. A subsequent political transition process raised hopes of that the goals of the revolution could be achieved. But Saleh's alliance with the armed Houthi group threw the country into civil war in September 2014.
"Today, Yemen is experiencing its worst days as a result of the coup against the outcomes of the National Dialogue Conference and attempts to control the state by force," she said in a speech at the event. "Tyrants and traitors alike have always believed that Yemen will surrender, but history tells us that Yemen has never surrendered nor accepted humiliation."
Karman has continued to advocate for democracy and a modern state in Yemen. In 2016, she founded the Tawakkol Karman Foundation (TKF), which has expanded her Yemen-focused mission to multiple countries. At the celebration in Istanbul, the foundation's executive director, Misk Al-Junaid, highlighted some of its recent accomplishments. More than 4,500 young men and women have benefited from TKF's higher education scholarships and English language diploma program, and more than 2,500 have earned diplomas from its Preparation for the Labor Market and Democracy and Human Rights programs. Several of these recipients delivered testimonials about how the programs affected their lives.
The foundation plans to continue many of these programs in the coming year and has agreed to sponsor the fourth season of the TV show, "Haeth Alensan" (Haven For Humanity), with a budget of $1 million.
Karman's support of the arts and culture was on display at the celebration. Performers included Yemeni artist Fouad Al-Hatar, Tunisian artist Mehr Hammami, oud player Muhammad Al-Hajri, qanun player Farah Fares, and the Turkish band Selam.
In closing remarks, Karman emphasized her dedication to continue the peaceful fight for the ideals she espoused in 2011.
"It is time for us to restore our state and reclaim our land," she said. "Let me be clear that we are for peace and against war. We are for real and sustainable peace, not surrender to injustice, oppression and the authority of the status quo."