Chairwoman Activities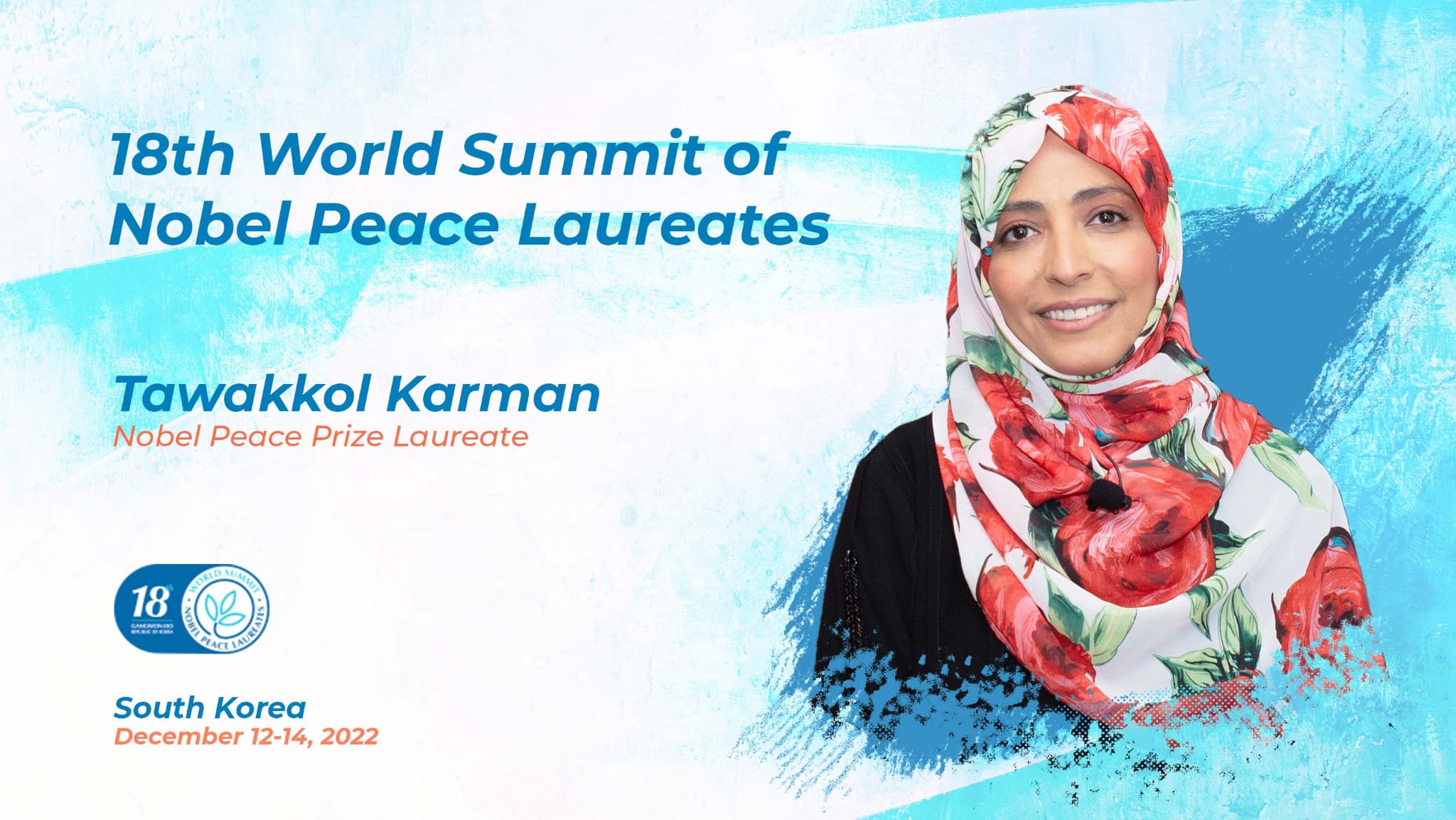 Mrs. Karman is en route to "Stronger Together" in Pyeongchang
The Nobel Peace Prize-winning human rights activist Tawakkol Karman is going to attend the 18th World Summit of Nobel Prize Laureates in South Korea.
In a statement on her official Facebook page this evening, Tawakkol Karman said that she is on her way to South Korea to attend the annual conference of Nobel Prize laureates.
"Now to the annual conference of Nobel laureates, which will be held this year in South Korea. I will stop attending the World Cup matches to participate in this important event that stand up for rights and freedoms around the world," wrote Tawakkol Karman, indicating that she will return to watching the World Cup 2022 semi-finals and finals.
The 18th World Summit of Nobel Peace Laureates is going to kicked off on December 12, in Pyeongchang, Gangwon Province, house of the 2018 Olympic Winter Games, and is scheduled to last for three days.
During the Summit that will give special attention to different issues, including the thousands of unmapped landmines across the line separating South and North Korea, reunification of the Korean Peninsula, and stability of the surrounding region, Tawakkol Karman is scheduled to deliver a keynote speech.
The event will focus on building bridges rather than walls, as well as discuss practical ways to ease various types of tensions and conflicts those human beings are facing and promote tools for peaceful coexistence.
According to the World Summit website, the event's program includes a wide range of different activities such as panel discussions with Nobel Peace Laureates, forums, Nobel consultations, other events, and culture activities on peace that will be introduced to the audience at this year's edition.